Congratulations! Welcome to Plunket's Pregnancy and Parenting information and education.
We appreciate that this time can be overwhelming, scary, exciting and a whole range of other emotions all at the same time. This resource is designed to give you information and support as well as assist you in navigating and understanding all of your care options. If you have any further questions, comments or concerns please call or email us at the details below or talk to your Pregnancy or Parenting Educator or you care provider. Parenting classes and support
Plunket provides free classes for parents about pregnancy, labour, birth, child development and parenting from birth until your child starts school.
The Family Services Directory lists family services and support in your area. You can also call on Healthline, PlunketLine or Parent Helpline for advice about your child's health and development.
PlunketLine: 0800 933 922
Healthline: 0800 611 116
Parent Helpline: 0800 568 856
Your rights:
HDC Code of Health & Disability Services Consumers' Rights Brochure
When accessing any kind of health care in New Zealand you have 10 basic rights that it is your care provider's duty to meet, these include:
Right 1: The right to be treated with respect
Right 2: The right to freedom from discrimination, coercion, harassment, and exploitation
Right 3: The right to dignity and independence
Right 4: The right to services of an appropriate standard
Right 5: The right to effective communication
Right 6: The right to be fully informed
Right 7: The right to make an informed choice and give informed consent
Right 8: The right to support
Right 9: Rights in respect of teaching or research
Right 10: The right to complain
For more information on your rights as a health care consumer or how to go about making a complaint go to the Health & Disability Commission Website or view this short video which explains these rights.
Choose a lead maternity career (LMC)
As soon as you know you're pregnant you need to choose a lead maternity carer (LMC) who will provide and coordinate your maternity care during your pregnany, labour, birth and/or postnatal (after care).
LMC's are
Registered Midwives
Obstetricians (doctors who specialise in pregnancy and childbirth)
Some family doctors (GP's) who provide maternity care.
If you're a NZ citizen or permanent resident you'll get free maternity care unless you choose a private obstetrician or private sonographer. For more information on the elegibility criteria for free maternity care click here or call freephone 0800 686 223.
Things your LMC or backup LMC will do:
Take responsibility for your care throughout your pregnancy, labour and the birth, and for you and your baby's care until six weeks after your baby is born
Provide you with information to help you make choices about your care
Provide you with free maternity care if you are eligible (unless your LMC is a Private Obstetrician)
Refer you or your baby to a specialist if it becomes necessary
Develop a plan with you for your care, including your labour and the birth
Be with you during your labour and the birth (or visit when needed)
Visit you at the hospital and in your home between five and ten times after your baby is born (more if clinically needed) or arrange for a midwife to provide these visits if your LMC is a doctor
Refer you to your chosen Well Child provider at a time agreed by you. This will usually be between four and six weeks after the birth of your baby
Provide a written note to your GP before discharging you from their care.
Your LMC will also discuss things with you such as:
whether they will stay involved if you require specialist services
their contact information for urgent situations
what they will do to make sure your cultural or spiritual practices are observed or followed
what education they will provide during pregnancy for labour and birth and for after the birth
the situations when you will need referral to other midwifery, medical, social and diagnostic services
smoking cessation
screening for infectious diseases
safety in your home.
Click here for a list of questions to ask before choosing your LMC or here for a brief video on choosing an LMC.
Contact your LMC if you have concerns about your pregnancy. This may include bleeding, excessive vomiting, if you think your waters have broken, abdominal pain, reduced fetal movements or other illness or concerns. Talk to your doctor or nurse about choosing an LMC, or visit the following links for more information.
Healthy Pregnancy:
Immunisation during pregnancy
Immunisations help protect you and your baby before and after birth. While you're pregnant, you can get:
Influenza and whooping cough (pertussis) immunisations are recommended and funded for pregnant women who are eligible for publicly funded health and disability services in New Zealand.
COVID-19 immunisation is recommended and funded for all pregnant women in New Zealand irrespective of their eligibility for publicly funded healthcare.
You will need to be immunised during each pregnancy, even if you've been immunised before.
Talk to your doctor, nurse or LMC about getting immunised.
Antenatal screening
During your pregnancy, you will be advised of screening for a number of conditions that may affect you or your baby. You will be provided with information to help you choose whether you would like to have this screening. For more information on all your screening options.
First antenatal blood screen
When you first see your LMC or GP during pregnancy you will be offered a first antenatal blood screen. This is to test for:
Your blood group and rhesus factor (If you are rhesus negative, ask your GP or LMC to explain what this means.)
Your haemoglobin (iron content in your blood)
The presence of any antibodies that may be harmful to your baby whether you are immune to rubella
Whether you are a hepatitis B carrier
Whether you have syphilis
Whether you have HIV (see Antenatal HIV screening).
Antenatal HIV screening
In New Zealand, all pregnant women are offered antenatal HIV screening. If you have HIV, treatment can help keep both you and your baby well.
For more information, about HIV testing in pregnancy
Antenatal screening for Down syndrome and other conditions
Your LMC or GP will advise you of the availability of antenatal screening for Down syndrome and other conditions. This screening is optional. Choosing whether to have this screening is an important decision. You need to have enough information to make the decision that is right for you. You do not have to have screening and testing if you do not want to.
Diagnostic testing
Diagnostic testing, through an amniocentesis or chorionic villous sampling (CVS), will tell you for sure whether your baby has Down syndrome or another screened condition.
For more information about screening during pregnancy.
Other antenatal blood tests
You will be offered a blood test around 26 to 28 weeks of pregnancy to screen for diabetes in pregnancy. This is called a polycose test. If your polycose level is high, you will be offered a glucose tolerance test that will confirm whether or not you have diabetes in pregnancy. Information is available from your LMC or GP to help you decide whether to have these screening tests.
You can get screening and tests to check the health of you and your baby at different stages of your pregnancy. You may need to pay for scans. Talk to your LMC about what scans and tests you should have.
Keeping healthy in your pregnancy
Keeping healthy throughout your pregnancy includes eating healthy food, getting exercise, getting enough rest, preventing the spread of infection, not smoking or drinking alcohol, and not taking recreational drugs. It also includes maintaining your cultural, spiritual and emotional wellbeing.
Back & Pelvic Pain Information
Taking care with medicines
Some medicines can harm the developing baby. Only take those medicines that have been recommended by your midwife or your doctor. Always check with them or your pharmacist before taking anything else. X-rays and some local and general anaesthetics (including dental X-rays and anaesthetics) are best avoided during pregnancy.
Smoking
Smoking during pregnancy affects the baby's growth and will mean more likelihood of health problems such as:
A lower birthweight that could be harmful
An increased risk of cot death, pneumonia, asthma or glue ear
A risk of miscarrying or having a stillborn baby.
There are programmes available to help pregnant women quit or reduce smoking. There is also information available on how to quit smoking. You can call the Quitline (Quit–Me Mutu) on 0800 778 778
Vaping
The vapour contains cytotoxic (harmful to cells) and carcinogenic (cancer-causing) chemicals that can harm unborn babies. The best thing for the health of you and your baby is to quit smoking and if you don't smoke, don't vape while pregnant. If you are struggling to become tobacco free, there are safe treatments for use in pregnancy called nicotine replacement therapy (NRT)
Alcohol
There is no known safe level of alcohol use during pregnancy. If you think you are pregnant or know you are pregnant, it is safer to avoid alcohol altogether.
When you are pregnant, alcohol that you drink is carried by your bloodstream through the placenta to your baby. Drinking alcohol during pregnancy can cause brain damage to your baby, and that damage is permanent. This damage is called Fetal Alcohol Syndrome (FAS) or Fetal Alcohol Effects or (FAE).
Cannabis and/or other recreational drugs
Using alcohol and/or other recreational drugs such as cannabis can cause special problems to the mother and baby, possibly causing premature birth or a low birthweight. Other drugs such as narcotics like heroin may cause the baby to be born drug-dependent and suffer from withdrawal symptoms. Drug-dependent babies will need expert management if they are to survive.
Diet & Nutrition
Eating well and doing moderate physical activity during pregnancy are important for you and your baby. Nutritional needs are higher when you are pregnant. Meeting these needs helps protect the long-term health of both you and your baby. It is important to eat a variety of healthy foods every day from each of the four main food groups:
Vegetables and fruit
Breads and cereals (wholegrain is best)
Milk and milk products (reduced- or low-fat milk is best)
Lean meat, chicken, seafood, eggs, legumes, nuts and seeds.
The only dietary supplements recommended for all pregnant women are folic acid and iodine. Folic acid is a vitamin that is needed for the formation of blood cells and new tissue. During pregnancy, your need for folic acid is higher. Lack of folic acid has been linked with neural tube birth defects, such as spina bifida. The risk of having a child with these birth defects is low but can be reduced by taking a folic acid tablet. Iodie is essential for normal growth and development including brain development. It is particularly important for the baby. Subsidised (reduced cost) folic acid and iodine tablets are available for all women. Discuss them with your LMC.
Some foods should be avoided because of the risk of catching listeriosis. Listeria is a common bacterium that can cause food-related illness. In pregnant women, this illness can cause miscarriage and stillbirth or it can cause infection in your baby. You can reduce your risk from listeria by avoiding certain foods and by using safe food practices. For more information on safe food practices, see below links:
Infections
Some infections during pregnancy can cause harm to your baby. If you are in contact with someone who has an infectious illness or you are not sure about symptoms, information is available to help you make any decisions about what you should do. Some of these infections include:
Rubella (German measles)
Toxoplasmosis – an infection that pregnant women can get from cat faeces and that can pass through the placenta to the baby human immunodeficiency virus (HIV)
Hepatitis B
Hepatitis C
Tuberculosis
Herpes.
A range of other infections, such as urinary tract infections, thrush, streptococcus B (strep B), chicken pox (varicella), and sexually transmitted infections (such as Chlamydia or Gonorrhoea) may also cause harm to you or your baby. If you come into contact with any of these infections, talk to your LMC or click on the following links for more information.
You can get advice and help to protect your health while you're pregnant — including:
Getting the right nutrients
Eating and handling food that is safe for your baby
Not smoking, drinking alcohol or doing drugs
Getting immunised for influenza (flu) and whooping cough
Exercise during Pregnancy
Being Active During Pregnancy & Breastfeeding Booklet
Changes in Pregnancy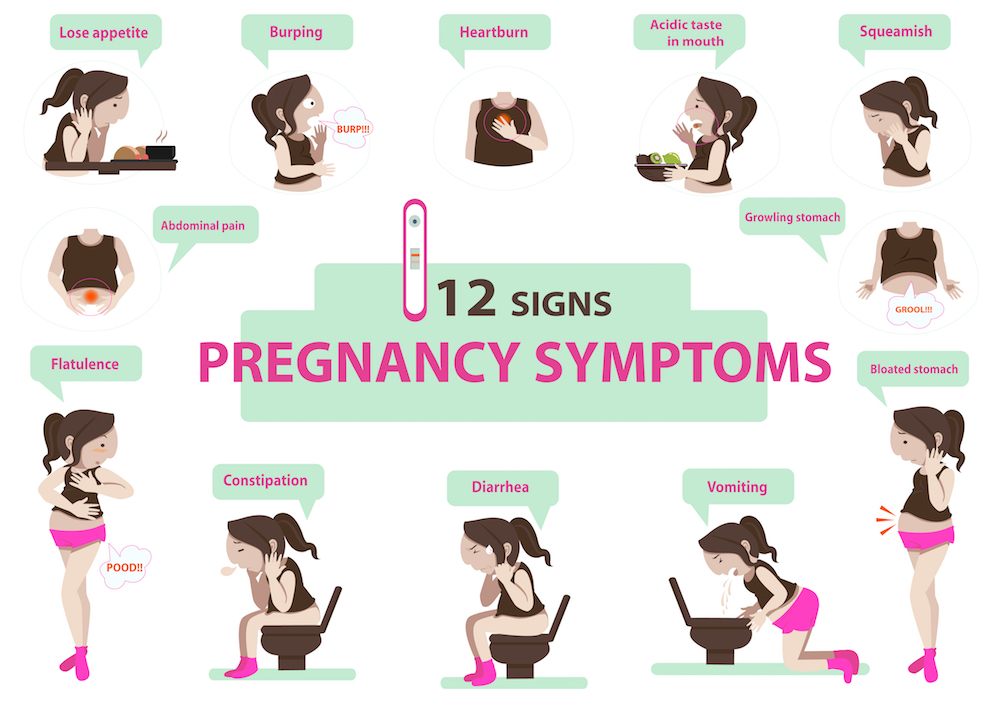 For more information on these and other changes you are experiencing during your pregnancy speak to your LMC.
Your developing baby – A brief overview
6–7 weeks
At seven weeks, the baby is about 8 mm long from head to bottom. The brain is developing, and the heart is beginning to beat. Physical features, such as the ears, eyes, arms and legs, are also developing.
8–9 weeks
At nine weeks, the baby is about 17 mm long from head to bottom. The face is slowly forming, with the eyes becoming more obvious.There is a mouth and tongue. Hands and feet, with ridges where the fingers and toes will be, are also beginning to develop.
10–14 weeks
Just 12 weeks after conception, the baby is fully formed. It has all its organs, muscles, limbs and bones. From now on, it will grow and mature. The baby is already moving about, but the movements cannot yet be felt. First-time mothers tend to feel the baby first move at about 20 weeks, while for second-time mothers, the first movements are felt at about 16 weeks.
24 weeks
At 24 weeks, the baby is about 30 cm long and weights 0.6 kg. The baby's skin is thicker and less see-through (transparent), but remains wrinkled because there is no fat underneath. The baby is moving strongly and the eyelids are now separated. Baby starts practising breathing and swallowing movements.
28 weeks
At 28 weeks, the baby is over 38 cm long and is about 0.9 kg in weight. The baby's skin begins to develop a white greasy covering called vernix, which waterproofs the skin. The baby's movements can easily be felt at this stage.
40 weeks
At 40 weeks, the baby is 50 cm long and weighs over 3 kg. Over the past four months, the baby has fully developed and the lungs have matured, ready for birth.
For more information about your baby's growth please see:
Finance:
Parental leave is leave you can take from work to care for your new child. You'll need to apply for parental leave to your employer, in writing, at least 3 months before your baby is due.
As part of your parental leave, you'll probably be eligible for paid parental leave from the government.
Working for Families Tax Credits
Working for Families is a payment to help parents with the costs of raising children. It's made up of 4 tax credits — you might be eligible for 1 or more of these if you care for children who are 18 or younger.
Accommodation Supplement
Accommodation Supplement is a weekly payment which helps people with their rent, board or the cost of owning a home. For more information.
Help with health costs
The Community Services Card can help you and your family with the costs of health care. You'll pay less on some health services and prescriptions simply by showing your card.
Help with childcare costs
Childcare Subsidy is a payment that helps families with the cost of pre-school childcare.
For More Information
Car Seats
If you have a car, you'll need to install a child restraint — like a car seat or an infant capsule — for your baby.
You can rent or buy a restraint. You'll need either an infant capsule, or a car seat that's suitable for newborns. Make sure it fits in your car before you buy or rent it.
If you're buying a second-hand car seat or capsule, check that it:
Has an approved safety standard label
Has an instruction book from the manufacturer
Hasn't been in a crash
Isn't frayed on the harness straps
Has no rust on any metal parts
Has buckles that click shut properly
Isn't past its expiry date.
Before you leave the hospital, make sure your baby is correctly fitted in the car seat or capsule.
Choose a Well Child Tamariki Ora provider
Well Child Tamariki Ora is a free service of health checks, visits and support for all children under 5.
Before your baby is born select a well child provider who will care for you and your baby until your child turns 5. Your LMC or hospital will organize referral to a well child provider after your baby is born however if you would like to meet with a member of your well child team prior to the birth then talk to your LMC about an early referral or call Plunket line on 0800 933 922.
Plunket is one provider of Well Child Tamariki Ora, but you can choose another provider such as an iwi or Pacific health service.
More Information